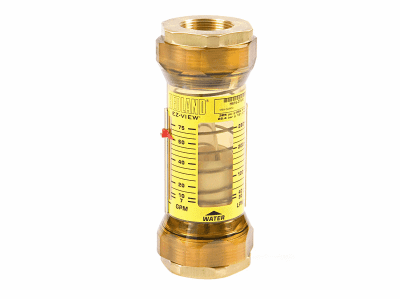 The EZ-View® variable area flow meters are rugged, low-cost direct reading meters for flow measurement of oil, water and other fluids.They are very simple to install – in any orientation from vertical to horizontal, upside down, etc. without sacrificing measurement performance.
Constructed of high impact PPSU, the EZ-View® product line offers excellent structural integrity and chemical compatibility with a wide range of industrial chemicals.
EZ-View® flow meters provide instantaneous, direct-reading flow rate measurement of liquids in closed piping systems. They measure oil in a flow range of 10 to 380 l/min, water from 2 to 380 l/min and water-based fluids from 2 to 100 l/min.
The transparent PPSU body allows visual inspection of the fluid condition as well as viewing of the internal flow indicator relative to a calibrated flow scale. EZ-View® does not require electrical connections.
Flow straighteners, located in the inlet and outlet, allow the flow meter to be less sensitiv to turbulent flow conditions. Further straighteners or other special installations are not required.