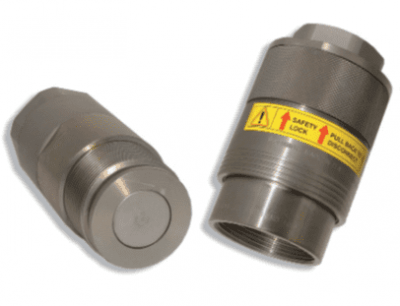 For building and construction applications, it has become necessary to develop innovative technological solutions for several problems in a variety of situations.
As a consequence, the technical solutions adopted for developing and manufacturing the new FHV series quick release coupling must represent excellence because quick release couplings represent are interface between the machine (power source) and the hydraulic attachment.
The test confirms the best performance of FHV screw-on couplers:
– User friendly
– Safety sleeve
– Rd Thread
– Female adapter free in rotation
– Excellent corrosion resistance
– Minimum pressure drop
– Polyurethane sealing technology
– Maximum working pressure up to 46 MPa
– High burst resistance
Faster FHV screw-on couplings are characterized by the perfect flatness of the shut-off valves adopting the Flat-Face valve technology.
This product concept guarantees:
– No spillage or air inclusion during lines connection and disconnection due to the flat-face valves.
– Ease of cleaning due to the flatness of the mating surfaces.
– Female valve is blocked within the coupling by a pair of patented semi-guides made of splintered steel granting a greater flow.
– Faster FHV screw on couplings are available with a wide range of threaded adapters such as: BSP, Metric, NPT, SAE, flange head.
– Faster FHV screw on couplings are also equipped (on request) with dust protection caps in two different
specifications: Aluminium screw-on caps and PVC rubber plug.