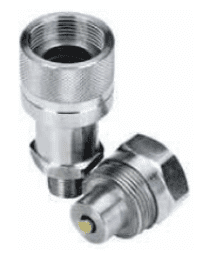 PVVM couplings have been designed by Faster in order to be used at high pressure ensuring, in the same time, a very high safety level to the user.
They are very consolidated products and have been created many years ago for heavy duty service when it is necessary to withstand very high static pressure on hydraulic jacks, rams, clamping devices hand tools and cylinders.
After a few years work in technical committee, within a few weeks a new ISO standard will be published (ISO 14540) specifically dedicated to these particular couplings in terms of dimensional and performance requirements.
Current Faster PVVM series already meet dimensional requirements and exceed technical performances specified in the new ISO thanks to very robust components, hardened poppet valves and reliable connection system.
Faster PVVM series couplings are available in sizes 6.4 (1/4″) and 10 (3/8″) and fully comply with new ISO 14540 Standards for worldwide interchangeability.
Do not hesitate to ask our Sales Dept. for more information about this and other new products from Faster.